Online Top Up lets you recharge your my.t Prepay mobile or tablet with credit or data from ANYWHERE around the world and ANYTIME on myt.mu/mobile.
For example, your daughter is on a trip abroad and is using her my.t Prepay in roaming mode for calls and SMS. You can now recharge her my.t Prepay from Mauritius using Online Top Up.
Or if your friend cannot chat with you as his mobile data has run out.You can use Online Top Up to send data to his my.t Prepay mobile.
How to pay?
You can use a credit card for this transaction but our online Top Up service also allows you to use your Mobile Money Account or even a scratch card for recharging your prepay phone with credit or data.
Note:
Online Top Up portal is 3-D Secure*. Some credit cardholders should consult their respective issuing banks/institutions to activate 3-D secure on their credit cards (e.g MCB)
*3-D Secure is card authentication anti-fraud protocol feature that enables the shopper to enter a password to confirm their identity with the card issuer. If accepted they then complete their order for online shopping
Step 1:

Step 2:
If you are not registered yet to online Top Up, click new user? create an account

Step 3:
Enter your email. This email will be used as your Login everytime you log in your online Top Up account.
Please use a valid email.
Click on create an account

Step 4:
Fill in this form.
Click on create account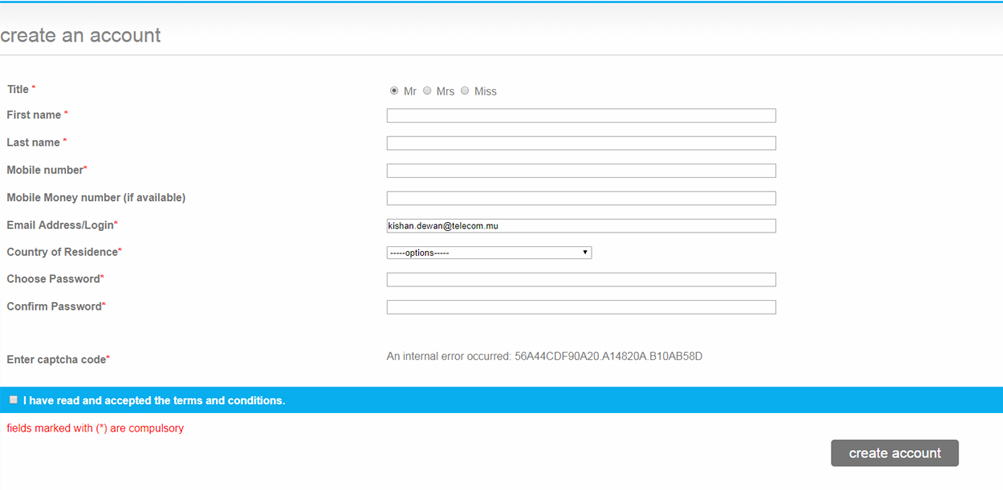 Step 5: Successful registration
You will see the screen below to let you know that your registration to online Top Up as been successful

Step 6: Confirm your email to activate your account
There's one more step to successfully register:
1. Check your email account (the one you have used to register on online Top Up)
2. You should receive a confirmation email in your inbox as shown below. Click on the relevant link to activate your account.
Step 1: Log in to your online Top Up acccount

Step 2: Click on mobile credit
Step 3: Choose the payment mode you prefer (Credit card,Mobile Money account or scratch card)
Step 1: Log in to your online Top Up acccount

Step 2: Click on mobile internet
Step 3: Click on buy packages
Step 4: Choose the payment mode you prefer (Credit card,Mobile Money account or scratch card)